Eugene Water & Electric Board is offering an instant $800 rebate on heat pump water heaters along with free curbside delivery exclusively through this special online offer.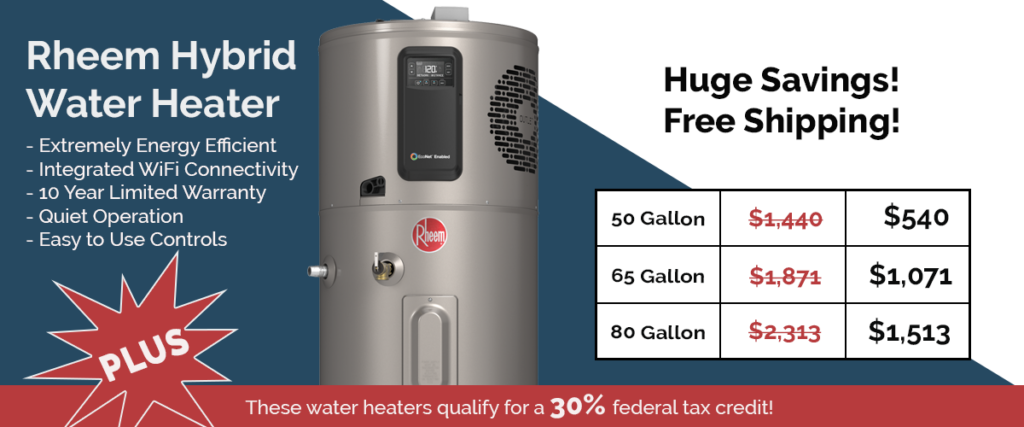 ---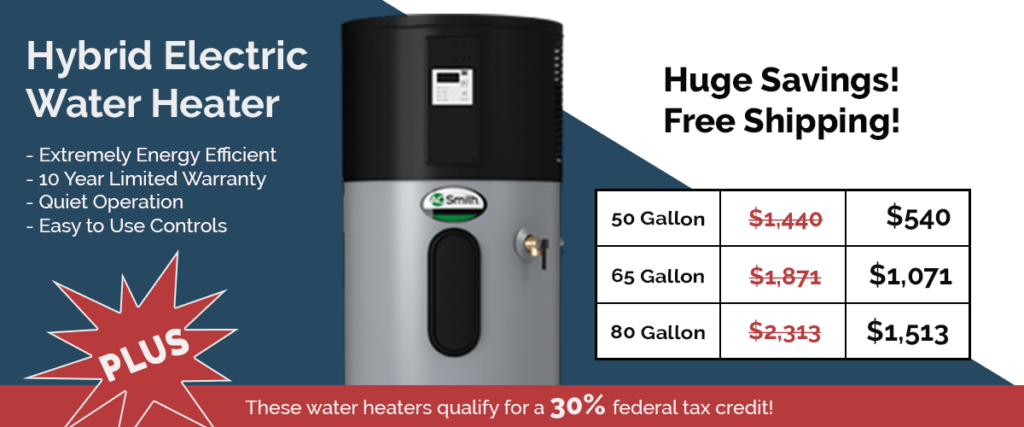 Rheem Heat Pump Water Heater: starting at $540 (was $1440)
AO Smith Heat Pump Water Heater: starting at $540 (was $1440)
BONUS SAVINGS: Heat pump water heaters now qualify for a federal tax credit up to $2,000. Learn more about how to claim your credit at ENERGY STAR.
Offer Details:
The HPWH must be shipped to and installed at a residential address with EWEB electric service. Residences with only water service do not qualify.
The HPWH must be purchased by the owner of the home where the HPWH is being shipped to and installed.
Commercial customers do not qualify for this promotion.
Only one HPWH rebate per qualifying residential installation address.
As possible, installation should take place within 90 days of purchase date.
Installation must be in compliance with applicable local, county and state code requirements.
EWEB may request access to the property after installation to review and evaluate the HPWH installation for adherence to specifications and equipment standards. Not all projects are selected for this follow up inspection.
Income-qualifying customers, do not purchase a heat pump water heater through this promotion. First visit EWEB's Income Based Assistance to go through the qualification process and work with an EWEB account manager.
Make sure to review the Program Terms & Conditions before completing a purchase.
Things to consider when installing a HPWH:
Sound: Is your water heater located where sound could be a nuisance? HPWHs generate sounds at about the level of a modern dishwasher (around 49 decibels) – it's not loud, but as you likely are not used to your water heater making any noise, this is something to consider.
Cool air: Is your water heater located in living space? While in operation, HPWHs release cool, dry air into the surrounding space. Ducting can be used to exhaust the air to the outside (if adjacent to an exterior wall).
Space: Do you have 700 cubic feet of space around the water heater? HPWHs require this amount of air-flow to operate most efficiently. Units can be installed in smaller areas if ducting or other air-flow strategies are used.
Size/height: Do you have adequate height clearance? HPWHs are slightly larger than similar capacity standard water heaters. They also require an additional 6" top clearance to access the air filter.
Condensate: Do you have a location to route the condensate? HPWHs produce condensate that must be routed to a floor drain, other plumbing drain, or to a condensate pump.
Power Source: Is your current water heater electric or natural gas/propane? HPWHs use electricity and require a 30 Amp, 240V circuit. (15A units available at slightly higher prices – call for details)
Minor Plumbing: If you are planning to install the HPWH yourself, are you comfortable making minor plumbing adjustments? The water inlet and outlet connections are on the side of the HPWH – not the top of the unit like conventional water heaters – so you will need to extend your existing water lines. If you are having the HPWH professionally installed, your installer will make these modifications as part of their service.
After your order is placed:
EWEB will verify your eligibility before your order is shipped. This program is available only for residential customers. EWEB will contact the customer directly if there are additional eligibility questions. Please note that only the owner of the home is eligible for the rebate. If you have any questions on rebate eligibility, contact EWEB at 541-685-7088
When your order ships, you will receive a shipment notification email.
Delivery is available M-F between 12-4pm. General Pacific will contact you to schedule your preferred delivery date.
Installation
If you'd like to install your hybrid water heater yourself, we recommend watching the "How do I install a heat pump water heater" video below, and calling GP Conservation if you have questions.
If you prefer professional installation, you may reach out to a plumber of your choice to request an estimate.
For your convenience, GP Conservation is providing the following list of installers who provide hybrid water heater installation service. Note that inclusion on this list does not indicate or imply EWEB's endorsement or recommendation.
HPWH Resources
Program Terms & Conditions
Suitability
It is up to you to determine the suitability of a HPWH for your home/application. GP Conservation makes no guarantee of fitness for a particular purpose and disclaims any liability for consequential damages arising out of the use of, or the inability to use the HPWH.
Returns
GP Conservation accepts returns of water heaters only under certain conditions. The unit to be returned must be (1) In new, undamaged condition, and (2) in its complete, intact packaging. If these conditions are met, a restocking fee of $140 and a return shipping fee of $120 will be deducted from your refund ($260 total).
Delivery
Curbside delivery service is included with the purchase of a HPWH, and is the only service available through this offer. Inside delivery and/or delivery up or down stairs is NOT available. Someone must be present to sign for delivery. If you need to reschedule your delivery, you must do so at least 24 hours prior to your delivery appointment.
Contact Us
Have questions? Need help ordering – or with an issue after installation? We're here to help! Reach GP Conservation at: 503-907-2899 or sales@gpconservation.com